Dr. Alan Mafara
Veterinarian, Owner
Dr. Alan Mafara came from Zimbabwe in 2003 after having graduated in 1993 from the University of Zimbabwe. He came to AZ to be with his wife, Sharon, who he met in an exchange program between the Michigan State University College of Veterinary Medicine and the University of Zimbabwe's veterinary school.
Since moving to Arizona, Dr. Mafara has become passionate about preventative care, orthopedic surgery and veterinary dentistry in primarily dogs and cats. He spends time with his mentors at Arizona Veterinary Dental Specialists in order to improve his dentistry skills.
Dr. Mafara and Sharon share their home with their son, daughter, and a boxer mix called Girlfriend. Their after hours activities are usually centered on the kids who like chasing hot air balloons and attending swimming lessons. Dr. Mafara also enjoys the local sports teams and catching a Cardinals, Diamondbacks or Suns game whenever he can. He hasn't quite yet become a Coyotes fan since he says he still has to learn how hockey works! For relaxation, however, he finds a round of golf is a welcome bonus.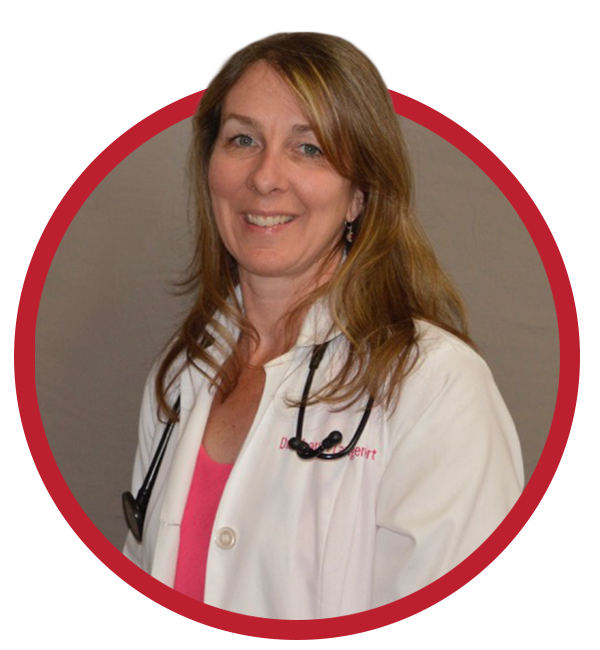 Dr. Sharon Langeneckert
Associate
Dr. Langeneckert didn't always know she wanted to be a vet but it seemed to make sense by the time she was a teenager. She was the kid who tried to rescue stray cats in the neighborhood and save worms that were drowned out of the lawn. In high school, she became very interested in physiology and biology. Her high school offered a work for school credit program so she obtained a position at a local veterinary clinic. It was there that she saw her first surgery and became hooked.
Having grown up in Michigan, she attended Michigan State University for both undergraduate work and veterinary school, graduating in 1994. Right after graduation, she looked for a place that didn't have as much snow and relocated to the Phoenix area. Since then she has really enjoyed helping cats and dogs and the interactions she gets to have with their owners.
There is a special place in her heart for her feline patients, but there is nothing like a soft nose and wagging tail of a dog as well.
She and her husband have 2 kids, 1 cat and 1 dog. The kids like helping with the pets when they need medical attention. Maybe we have the next generation of vets here. We'll see.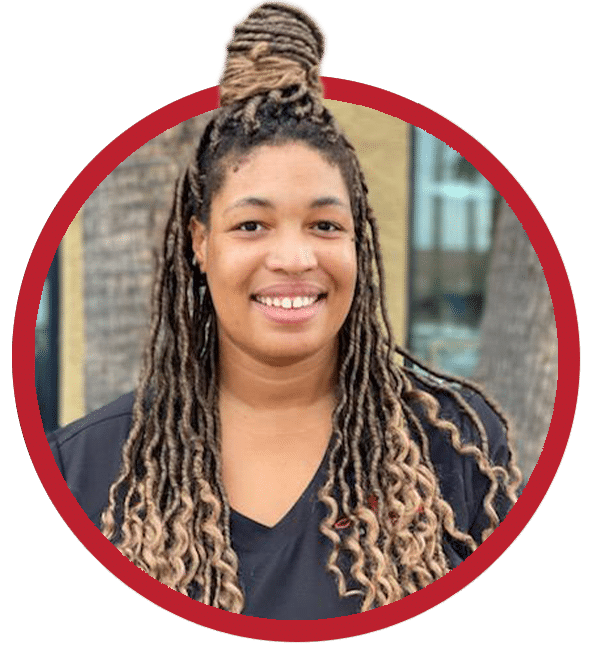 Erin Everett
Lead Veterinary Technician
Born in Detroit, Michigan, Erin moved to Chandler, Arizona with her family in 1998 and has been in the East Valley ever since. Graduating from Chandler-Gilbert Community College with an AA in Fine Art, Erin decided to save art as a hobby and go another route.  She entered the wonderful world of veterinary medicine in 2013 and hasn't looked back. Her career started in a large-scale hospital/boarding facility in Tempe that fostered her passion for the field. Her particular interests lie in emergency and the strange, ooey-gooey cases that come through the hospital.
Erin goes home to an ever-energetic senior Pitbull named Murphy, an aloof feline name Dr. Niles and a planted aquarium with a Betta fish and two African dwarf frogs. When she is not at work, Erin spends her time doing ceramics, kayaking and cross stitching.  
Kaitla
Veterinary Technician
Kaitla (otherwise known as Kate) joined our team in March 2021. She has been working in the veterinary field for six years. She started as a Kennel Assistant and excelled her way to her current position as a Veterinary Technician. She owns a wonderful mix of pets! Kaitla's first pet was a cute street Calico kitten who she decided to name Cookie. Cookie is currently 13 years old and knows how to boss Kaitla around! She also has a mare named Stella, who fun fact… surprised Kaitla with birthing her filly named Tilly in May 2018 (just a few months after owning Stella)! Kaitla for sure got a 2 for 1 deal on her horse buy! She also owns a slender black cat named Static (he gets staticky when you pet him), a long-haired grey/white cat named Fit Bit (not sure how that name was obtained) and a semi-feral cat named Terry who has many extra toes! Lastly, she owns a special kind of dog. His name is Chomper, and he is a 3-year-old Pitbull. Now, sounds easy right, but you are wrong…. he has deformed front legs and requires lots of love and attention to make it through his day. In Katila's free time, she enjoys horseback riding, going to Canyon Lake with her family and spending time at home with her crazy pets!
Olivia Lucas
Veterinary Technician
Oliva grew up in Missouri in a place near Saint Louis most of her life until July of 2020. Her family decided to move across the country to Mesa, AZ in order to be closer to some newly found family members. She has worked in the veterinary field since 2016. She graduated in 2018 with her associates degree in animal technology at Hickey college, Vet Tech Institute in St. Louis. While attending college she had the great experience of  working with many species of animals. Reptiles are one of her favorites. She currently owns 3 dogs and 1 cat. Her hobbies are fishing, cooking, and drinking Starbucks.
Marisa
Veterinary Technician
Marisa joined our team in April 2021. She started her veterinary career as a little wee in 2011 where she worked as a Kennel Assistant. In 2013, she was promoted to Veterinary Assistant and excelled her way to her current position as Veterinary Technician. Marisa has always wanted to work in the Veterinary field (as every other kid out there wants to) since she was very young. She would gather not only her sisters, but every cat in the house, dress in old scrubs from her Mom and play "Vet" in the playroom. She currently owns nine cats. Each one of her feline kids have some sort of abnormality that would place them very nicely on the Island of Misfits. Whether it is owning a feral cat to owning ones missing limbs/toes to even one with a lazy eye, Marisa finds a way to collect them all and love each one of them to pieces. Marisa directly stated that she is a boring person and currently does not have a hobby, but when Marisa is not working, she enjoys spending time with her three sisters, her fiancé, and her baby boy named Zayden. Random fact… Marisa is an Arizona native who has never been to the Grand Canyon!
Shawn Piemont
Office Manager, CVT
Originally from Oregon, Shawn joined Anasazi Animal Clinic in January 2021. She brings with her 20 plus years of veterinary experience and a life long love of animals. Shawn passed both the state and national boards to become a Certified Veterinary Technician in 2006 and graduated with honors from Arizona State University with a Bachelor's in Applied Biological Sciences in 2018. 
Shawn started her veterinary career in 1994 as a receptionist. She then worked her way up to Veterinary Assistant, Veterinary Technician and eventually to Surgery Supervisor. Although she loved working as a technician, she developed an interest in office management. Shawn still enjoys having the freedom to use her technician skills whenever possible.
Shawn shares her life with her husband, four daughters, her grandson, and a long list of special needs pets that she welcomed home over the years. The list includes three horses, two dogs, nine cats and three doves. In her spare time, she enjoys spending time at Canyon Lake, making home improvements and the occasional trip back to Oregon.